Letter from the Dean
Science@MIT Winter 2019 Issue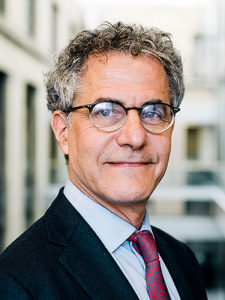 Dear Friends,
The fall brings us a new academic year, many new developments, and a new issue of Science@MIT.
The biggest recent change to the campus is the completion of the MIT.nano building. This remarkable new facility—from the formal announcement of its construction in 2014 to its official grand opening this fall—represents a tremendous advance in MIT's nanoscale research capabilities. With more than 200,000 square feet of space, including ultra clean rooms and labs virtually free from significant vibrations and electromagnetic noise, our engineers and scientists can now characterize and fabricate nanoscale structures, materials, and devices using state-of-the-art advanced tools.
Among the first tools installed in MIT.nano were two cryogenic electron microscopes. Supported in part by the Arnold and Mabel Beckman Foundation, these cryo-EMs will allow biologists to visualize complex and flexible structures, such as folds in protein chains, at a resolution of a billionth of a meter. These exquisitely sensitive devices require the type of environment that the MIT.nano building was designed to provide. At the building's grand opening, structural biologist Thomas Schwartz gave an enthusiastic presentation about how our scientists will use these devices to view biomolecule functions and interactions in real time.
MIT.nano also hosts the new undergraduate chemistry teaching labs. Here, students learn core concepts of catalysis, synthesis, and spectroscopy, and they conduct research as part of the department's Undergraduate Research Inspired Experimental Chemistry Alternatives program—URIECA, pronounced "Eureka!" The URIECA lab curriculum guides undergraduates through the research processes that have led MIT faculty to their eureka moments.
In this issue, we present chemistry professor Alex Shalek's research using single-cell screening methods to pinpoint stem cells responsible for perpetuating chronic inflammatory diseases such as rhinosinusitis and ulcerative colitis. Ultimately, by identifying the root causes of these diseases, Alex may be able to recommend therapeutic interventions for other diseases such as inflammation-induced cancers.
You can read about biology professor Angelika Amon's career and her research on aneuploidy, an abnormal chromosome number that may occur during a flawed cell division. In most cases, aneuploidy leads to cell death, except, paradoxically, in cancer cells, which almost all contain an incorrect number of chromosomes. Angelika's insight into this paradox and cellular error-repair mechanisms led to her win of the 2019 Breakthrough Prize in Life Sciences. "You can't really explain these eureka moments or how they move you and how they affect you," says Angelika. "That's the best feeling ever," she said.
Our scientists leading the NASA Transiting Exoplanet Satellite Survey mission are thrilled that TESS's cameras are sending back luminous images of the sky's southern hemisphere. These images provided scientists with a glimpse of two potential planets outside our solar system and hinted at many more discoveries to come when scientists can follow up with observations from ground- and space-based telescopes.
As dean of Science, I'm fortunate to get a first-hand look at the experience of doing science across our six departments—the joy of discovery, and the ever-present possibility of failure. I hope to share this experience with you through a new video series we are commissioning. In these videos, we'll hear the personal stories of several MIT scientists themselves, including Rai Weiss, recipient of the 2017 Nobel Prize in Physics. How did an experimentalist like Rai—a "tinkerer" in his words—feel day-to-day while he spent more than 50 years to detect gravitational waves? And how did it feel when the experiment finally succeeded? Look for these inspirational videos in the spring of 2019.
For another source of inspiration, read a profile about David Siegel, member of the MIT Corporation, and invaluable supporter of research in the Center for Brains, Minds and Machines. Here, David says that his career goal wasn't to grow a financial technology empire but rather to push the boundaries of what computers could do in performing increasingly sophisticated tasks, such as investing, that were only previously executed by humans.
With his recent gift to MIT's Quest for Intelligence, specifically to the Quest's research arm and the work of Josh Tenenbaum and others in the Department of Brain and Cognitive Sciences, David enables our MIT scientists to continue their studies of natural and artificial intelligence—to conduct basic research that can make advances in machine and human learning.
I am thankful to donors like David and others who support our curiosity-driven scientific enterprise here at MIT. Thanks to their generosity and vision, our donors make it possible for our scientists to keep working toward eureka moments that will ultimately change how we all see the world.