Intelligence at its core
David Siegel provides philanthropic support for MIT's Quest for Intelligence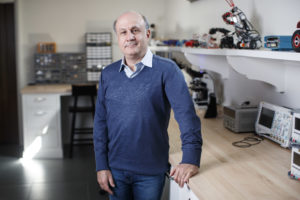 When he was nine years old, David Siegel SM '86, PhD '91, took his first computer programming class at New York University and was instantly hooked. Siegel has blazed trails in computer science ever since, including a long history of philanthropy and involvement at MIT through the Center for Brains, Minds and Machines (CBMM), the MIT Media Lab, the MIT Task Force on the Work of the Future, and the MIT Corporation. Siegel also co-founded and helps lead the Scratch Foundation with Mitchel Resnick, professor of learning research at the Media Lab.
Most recently, he played an integral role in the development of the Quest for Intelligence — a new effort to advance MIT's leadership in studying and engineering intelligence. Siegel provided guidance leading up to the Quest's launch last spring, and he recently made a new gift to bolster the work of the Core, the initiative's basic research arm.
"The Core has amazingly talented faculty and students involved with the work," says Siegel. "I just want them to be able to move as quickly as they can to make breakthroughs in understanding natural and artificial intelligence. The faster they can make progress, the more benefits we can bring to the world."
The road to MIT
Siegel grew up during what he calls the first wave of computer innovation, a time when those involved in early computing were dreaming about what these machines could do. Before people started to think about computers as data processing machines, engineers thought about teaching computers to act like humans, Siegel says: "Most of the people in early computing, the very first thing they started to imagine was some form of artificial intelligence."
Siegel himself began to imagine the possibilities of computer science. After watching the film "2001: A Space Odyssey," Siegel says he recognized that computers would be doing amazing things in his lifetime and decided he wanted in on the action. He continued taking coding classes and eventually found his first paid job while still in high school: teaching kids how to program and design computers. He studied electrical engineering and computer science at Princeton and graduated in 1983.
"Then my dream came true," says Siegel. "I actually got into the AI Lab at MIT. I couldn't believe it."
During his graduate work at the Artificial Intelligence Laboratory at MIT, Siegel says he was thrilled to be around people who shared his passion for computer science and to have access to cutting-edge technology. His research included efforts to get a robot called the Utah/MIT Dextrous Hand to behave like a human hand.
"Everyone was imagining the future," says Siegel. "It was a remarkably creative environment, and it was so inspiring to have found this group of people who shared my belief that there's no limit to what computers will eventually be able to do."
Business success and philanthropy
After graduating from MIT in 1991, Siegel went on to co-found Two Sigma Investments where he is now co-chairman. "I was intrigued about the possibility of getting computers to be really good at making investment decisions," says Siegel. "It's a data-driven problem — really the perfect problem for computers. It wasn't my passion to get involved in finance; really my passion was to get computers to do increasingly sophisticated things."
While Siegel remained connected to MIT after graduating, his involvement increased when he was asked to join the advisory committee for the MIT Center for Brains, Minds and Machines. Funded by the National Science Foundation, CBMM focuses on the study of intelligence and how to reproduce intelligent human behavior in machines.
"CBMM has assembled an incredible team of people," says Siegel. "Its ability to combine computer scientists with neuroscientists is a really unique thing that only MIT can do best."
Siegel is also involved with the MIT Task Force on the Work of the Future, which brings together diverse faculty and researchers to explore how advances in technology will impact the future of work. "I've become very interested in helping the world to prepare for a future that is increasingly technologically dependent," says Siegel. "The field of artificial intelligence is amongst the biggest transformations that have ever occurred in the history of human civilization. This is having a big impact on all aspects of society — including work."
In 2017, Siegel joined the MIT Corporation, which he says has been an enjoyable opportunity to learn more about how the university operates. "MIT is a remarkable institution," says Siegel. "I think it's one of the few organizations around the world that is so well-positioned to really help us solve some of the most pressing problems that humankind faces."
Siegel also remains actively involved with the Scratch Foundation, an organization that supports the continued growth of Scratch, the world's largest coding platform for kids, developed by MIT's Lifelong Kindergarten Group.
Joining the Quest
When MIT's Quest for Intelligence was in its planning stages, MIT's administration reached out to Siegel for his advice, knowing he would offer valuable insight. "David was one of our earliest thought partners on the Intelligence Quest," said Martin A. Schmidt, MIT provost and the Ray and Maria Stata Professor of Electrical Engineering, at the launch of the Quest in the spring. "I feel very confident that the MIT Intelligence Quest will have a tremendous impact here and around the world, and the success will have no doubt been influenced by David's guidance."
The Quest — composed of linked entities called the Quest Core and the Quest Bridge — aims to address two questions: Can we reverse-engineer intelligence?; and how can we apply our understanding of intelligence to make a difference in society? Siegel's gift will support the Quest Core's mission to reveal fundamental scientific information about intelligence.
"It makes total sense to me that in trying to build next-generation computational systems that have humanlike intelligence, we would try as hard as we can to learn about how the brain works and to combine those learnings with how to build algorithms," says Siegel.
To Siegel, it was important to support foundational research that might not attract as much funding. "In the field of artificial intelligence, so much effort is focused on deep learning, which is great. The breakthroughs in deep learning are really phenomenal," says Siegel. "One thing I wanted to be able to do with my gift is to make sure that other lines of research receive funding as well."
While he acknowledges that the brain's enormous complexity presents many research challenges, Siegel says that better understanding how the brain functions is a crucial step toward engineering intelligence.
"The human brain is perhaps the most sophisticated device in the universe; so understanding it is not easy," says Siegel. "But when you're thinking about intelligence and how to build machines that are intelligent, we have an example right on top of our shoulders of a device that can do these remarkable things."