Tea time with Champions of the Brain Fellows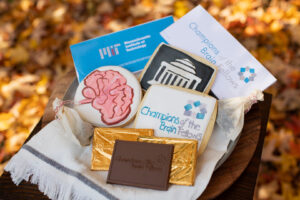 On October 21, the Department of Brain and Cognitive Sciences (BCS) held its seventh annual Champions of the Brain Fellows reception — this time, virtually. Guests received packages of tea, cookies, and chocolates prior to
the event — because what is tea without chocolate? — and in that way shared a small physical token of the annual event, even at a distance.
The celebration provides an opportunity for fellows to meet and thank the friends and alumni who make it possible for them to explore their scientific pursuits and for our donors to learn firsthand about the research their support enables.
The evening was hosted on Zoom by Al '51 and Barrie Zesiger, founding Champions of the Brain Fellows. Over the years, the Zesigers have helped to endow multiple fellowships in the department, and they have enjoyed meeting and keeping in contact with many of their former fellows.
Department head James DiCarlo thanked the guests, faculty, and graduate students for joining the virtual celebration and commended the students for their perseverance and ingenuity during research shutdowns. "You have found innovative ways to continue the research and maintain the vibrancy of our community throughout the new challenges we have faced," said DiCarlo."
This year, attendees heard from five current students who gave 3-minute "lightning talks" followed by a question and answer session. Afterward, the guests were put into small groups for ice breakers and two rounds of MIT BCS Brain Teasers.
Do you know the name of the scientist who founded the Department of Brain and Cognitive Sciences (then known as the Department of Psychology) in 1964? Today, many people know that BCS is Course 9, but what field of study was Course 9 originally? Do you know what was unique about Patient H. M., an individual studied by the late BCS Professor Suzanne Corkin? The winning team, Amygdala, knew the answers.
One of the benefits of hosting the celebration virtually was how many supporters could join, logging in from all across the country.
Dean of the School of Science, Nergis Mavalvala, gave closing remarks "I was a graduate student in Building 20, and have many fond memories," said Mavalvala, who is also the Curtis and Kathleen Marble Professor of Astrophysics. "As a physicist, I find that the complexities of matter and forces are actually much simpler than the brain," she joked. For information on joining the Champions of the Brain Fellows, or to make a gift in support of the department, contact Rachel Donahue at 617-715-2898 or rjd@mit.edu.
The answers to the above brain teasers: Hans-Lukas Tueber founded BCS as the Department of Psychology in 1964; Course 9 was originally General Study; and Patient H. M. had anterograde amnesia, which means he could not form new memories though his long-term memories remained intact.
This article appeared in the Winter 2021 issue of Science@MIT.