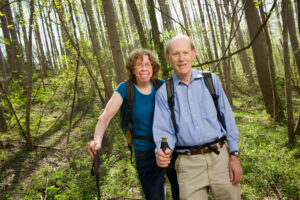 Audrey Buyrn met her husband Alan Phillips when they were both graduate students in the lab of nuclear physicist Professor Emeritus Lee Grodzins. These newly minted professors held academic teaching positions in the East until 1969 when they left for California to work at the Lawrence Berkeley National Laboratory (LBNL). It was there they began to hike and backpack in the Sierras many weekends.
"The greatest thing about hiking in the Sierra Nevada is the complete isolation," Buyrn said in a 2010 interview in MIT's Spectrum magazine. "You get up into the high country and the number of people drop off. Then you leave the road, and more people drop off. When you leave the trails, you can go literally for a week or two without ever seeing anybody. There is a profound silence broken only by wind, streams, and birds; complete beauty: the world as it was when it was young."
After the end of their two years at California, they moved back East and settled in Great Falls, Virginia, where for 20 years Buyrn worked at the Office of Technology Assessment, and Phillips worked for 35 years at Science Applications International Corporation. The couple continued to travel out West a few times a year to enjoy the beauty and magnificence of the wilderness. As the years progressed, the avid hikers witnessed firsthand the deleterious effects of climate change and decided to act.
In 2007, Buyrn and Phillips established the Ally of Nature Fund used to fund exploratory projects in the School of Science "to prevent, reduce, and repair the adverse impacts of humanity on the natural environment." Over the years, this fund has supported numerous students and faculty working in the School of Science.
"When Alan and I established the Ally of Nature Fund in 2007, it was still possible to be an intelligent skeptic of climate change and to think that catastrophic environmental degradation was far off in space and time. This is no longer possible," says Buyrn. "The evidence is in front of our eyes, over and over again from every part of the world."
After Phillips died, Buyrn chose to honor him by establishing the E. Alan Phillips Fellowship in Environmental Sustainability. This newly endowed fellowship sits in the School of Science and is awarded to a graduate student working to understand, repair, or compensate for environmental degradation. Timur Cinay, the inaugural E. Alan Phillips Fellow, met with Buyrn last fall to thank her for her kind generosity that enabled him to attend MIT and work with Professor Andrew Babbin.
Cinay was an ideal choice to hold this fellowship, having seen firsthand the devastating impact of climate change in his native Turkey. "I think Alan would have enjoyed meeting Timur as much as I have. He is a young scientist passionate about his work, with big hopes for the future. I cannot think of a better way to support basic science than by supporting the young people who are dedicating their lives to making our world a better place for future generations."
MIT School of Science is grateful to both Phillips and Buyrn for their philanthropic support, as well as Buyrn's advice in her service to the Dean of Science Advisory council.
If you have questions or would like to make a gift to the School of Science, please contact Elizabeth Chadis, Assistant Dean of Development at echadis@mit.edu or 617-253-8903.