Life Sciences at MIT is unmatched
Paul Schimmel and family's recent donation can match up to $25 million in additional funds to support life sciences at MIT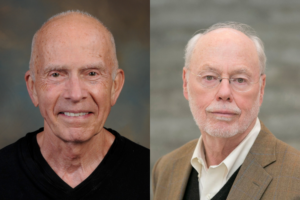 This past August, the Department of Biology and the School of Science announced the creation of the Schimmel Family Program for Life Sciences at MIT as a result of the $50 million dollar donation from Professor Emeritus Paul Schimmel PhD '66 and his family. Half of this support is designated to be matched with donations from other supporters of the department and the life sciences research enterprise. Now, with a recent donation from Institute Professor Phillip Sharp — a friend of the Schimmels and another lifelong supporter of biology — the matching funds, and opportunities for life sciences research at MIT, continue to be unlocked.
"The life sciences educational enterprise spreads across a dozen departments at MIT," says Schimmel of the impact of this giving. "What makes the Biology Department and the life sciences at MIT so extraordinary is the singular ability to transfer knowledge and inventions to society for its benefit."
Schimmel and Sharp, well-matched
In August 2021, the Schimmel family committed $50 million to support the life sciences at MIT. The family's initial gift of $25 million established the Schimmel Family Program for Life Sciences and was matched with $25 million secured from other sources in support of the Department of Biology. The remaining $25 million from the Schimmel family now serves as matching funds for future gifts supporting the life sciences. To date, $7 million in new gifts from other donors have been committed toward this effort, eliciting an additional $7 million in matching funds from the Schimmel family.
Professor Sharp is among those supporters who have joined his former colleague and friend, Paul Schimmel.
"Paul and I taught together, shared an interest in RNA biology, and have remained close friends since his move to Scripps Institute," says Sharp of his career-long friendship with Schimmel, who is the Ernst and Jean Hahn Professor at the Skaggs Institute for Chemical Biology at the Scripps Research Institute.
Though Schimmel formally left MIT for the Scripps Institute in 1997, he remained actively involved in supporting MIT's research enterprise, with a particular focus on MIT graduate students, through his role on the Biology Visiting Committee.
Sharp and Schimmel agree that the success of graduate students remains key to the long-term sustainability of the life sciences at MIT. "We share a passion for supporting and engaging with the next generation of outstanding biologists, scientists, and leaders — well represented among MIT graduate students," Sharp adds.
Sharp's donation — matched by the Schimmel family — provides funds to establish fellowships for biology graduate students. "I hope others will join me in supporting the biology department and life sciences here at the Institute through the Schimmel family matching opportunity, as their investment will impact students and research for generations to come."
Match point
"I am extremely grateful to Paul, his family, and Professor Phillip Sharp and Ann Sharp for their generosity and helping to inspire others to follow their lead," says Biology Department Head and Praecis Professor of Biology Alan Grossman.
Grossman has worked with Sharp and the Schimmels for many years and is keenly aware of the important role these gifts play in a time of dwindling government investment in the sciences.
"As federal support for graduate training continues to wane over time, support from individuals like Paul, Phil, and others becomes crucial to the future of the life sciences," Grossman says. "As COVID-19 has laid bare, there has never been a more critical need or better time to invest in basic science than right now."
With $18 million remaining in available matching funds, Grossman says that he and partners throughout MIT continue to seek out others who wish to contribute to and participate in the Schimmel Family Program for Life Sciences. "Providing students with the resources they need to be successful in their education, research, and careers remains at the core of our mission," says Grossman.
"Paul and the Schimmel family have provided other donors with an extraordinary opportunity to amplify the impact of their giving by leveraging their vision for the betterment of life sciences at the Institute," says Biology Director of Development Daniel Griffin. "This initiative is resonating with people in and outside of the MIT community and we are all excited to see where it leads."
Julia C. Keller | School of Science
This article first appeared in the Winter 2022 issue of Science at MIT.