A day with MIT's Brains on Brains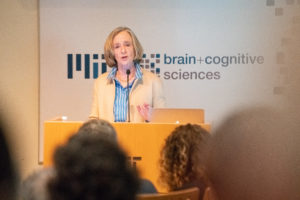 On April 29, 2019, the Department of Brain and Cognitive Sciences (BCS) hosted MIT's Brains on Brains, its day-long biennial symposium that celebrates the work of the students, faculty, and their supporters on their quest to reverse engineer the mechanisms of the brain to understand how it gives rise to the mind.

"[BCS] is poised to invent the next generation of neuroscience research and to put us on the path to cures for some of our most challenging clinical and sociological problems," said MIT President Emerita and Professor of Neuroscience Susan Hockfield, who provided opening remarks to kick off the event. "There is no question that supporting basic science is an investment in the fundamental discovery needed to create a better future and a better world. And it is the primary way we can accelerate discovery."

Throughout the day, guests enjoyed presentations from the newest BCS faculty members introducing their research, as well as faculty talks about brain disorders, plasticity, the neural basis of language, and tools and techniques for mapping the brain. The popular "Brainbow" lunch featured faculty and scientist hosted tables with themes including CRISPR, autism, intelligence, and cognition and memory, among others. The lunch was one of several occasions throughout the day for attendees to ask questions and discuss issues and ideas with researchers in the department.

The afternoon featured breakout sessions where guests chose between touring laboratories and other research facilities in Building 46 or attending an interactive panel session. The panel sessions, hosted by faculty experts and members of their research teams, focused on the developing brain, reverse engineering human intelligence, and new developments on neurodegenerative disorders. During the cocktail reception, students and postdocs hosted tables with research displays, facilitating lively discussion around scientific research in BCS.

"Today is a celebration of our science and our scientists," said James DiCarlo, BCS department head, during his remarks. "It's a chance to give our closest friends and supporters a glimpse of a possible future we are working toward, and we hope you can join us in making that future a reality." The next Brains on Brains symposium will be hosted in spring 2021.
From left to right: David W. Ellis PhD '62, Marion Schmitt Ellis, and Tom Stocky enjoy breakfast before the opening remarks. Credit: Bryce Vickmark

Brains on Brains attendees listened to BCS faculty presentations that covered topics such as brain disorders, plasticity, the neural basis of language, and tools and techniques for mapping the brain. Credit: Bryce Vickmark

Professor Mriganka Sur, Paul E. and Lilah Newton Professor of Neuroscience and director of the Simons Center for the Social Brain, leads the discussion at the "Autism" table during lunch. Credit: Bryce Vickmark

From left to right: Prisca Marvin '85, Melissa Ko Hahn '90, Doug Hahn, and Dawn Adelson enjoy the biennial event. Credit: Bryce Vickmark

From left to right: Guoping Feng, the James W. (1963) & Patricia T. Poitras Professor, talks with graduate student Joe Scherrer, Jeremy Wertheimer PhD '96, and George Mabry '76 at Scherrer's demonstration table. Credit: Bryce Vickmark

From left to right: Amanda Vernon, a graduate student in Professor Miriam Heiman's Lab, presents her research project "On the path to next generation anti-psychotics" to Russel '84 and Beth SM '84 Siegelman. Credit: Bryce Vickmark

From center to right: Vikash Mansinghka '04, Irene Cheng SM '78, and Mike Speciner '68 chat during a break between sessions. Credit: Bryce Vickmark