Anita Killian '85 SM '87 endows new Women in XII Fund for EAPS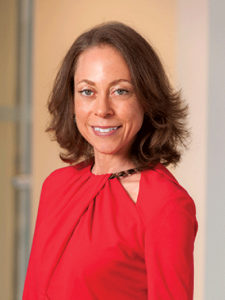 Women in the Department of Earth, Atmospheric and Planetary Sciences (EAPS) now have their own advocacy group called Women in XII and, thanks to a generous gift from Anita Killian '85 SM '87, they are off to a flying start.
EAPS alumna Anita Killian, Vice President and Global Industry Analyst, Wellington Management LLC, learned about Women in XII ("WiXII") in a conversation over dinner in Singapore with her long-time friend, EAPS Professor Paola Rizzoli, now a Board member of WiXII. Professor Rizzoli has long been a staunch advocate for women in MIT's School of Science. As a member of the committee which presented data showing a disparity in the opportunities and advancements given to female faculty in 1999, Rizzoli has helped to bring about major improvements in the status of women at MIT.
After hearing more about Women in XII's mission to "serve as an active advocate for women's and minorities' rights in the department and inspire role models for the diverse future generations entering STEM." Killian jumped in with a generous gift of $100,000 to launch the Women in XII endowment fund that will support the new group, plus an additional $5,000 to the EAPS Discretionary Fund for their initial kick-off activities. "I seriously want them to focus on great things," she said in an email confirming her gift. "The sure way to deal with sexism is to kill it with excellence. It is about women in EAPS doing amazing things and supporting each other and creating a feeling of pride in their accomplishments."
Killian has confounded the norm in her own industry over her career. She broke into financial management without the customary MBA or inside connections, and has ascended the male-dominated corporate ladder by virtue of her own excellence and hard work. After her BS in Physics at MIT, she contemplated a career in science journalism, so spent two years as an EAPS graduate student to gain a degree in planetary sciences directed toward a more people-oriented career path than academia. Seeking a balance between the deep but narrow world of scientific research and the broad but shallow world of journalism, she found the ideal combination in finance. She worked in a variety of administrative and educational roles at MIT before finally cutting the cord and moving into the world of investments. Nineteen years later, and after 16 years with Wellington Management, Killian is now a partner of the firm and manages Wellington's Asia Technology Fund from her home base in Singapore.
WiXII board members, led by co-chairs EAPS graduate student Kelsey Moore and staff member Annora Borden, were thrilled to have this early show of support from an EAPS alumna, and have invited Killian to speak at a WiXII event later this year.
To join Anita Killian in supporting the Women in XII Fund, please go to: http://bit.ly/eaps-giving