The life of Luria
The first full-length biography of Salvador Luria profiles his life as a scientist and activist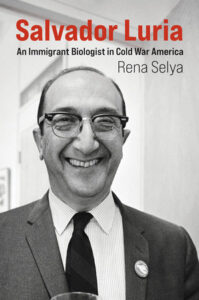 Salvador Luria (1912–1991) led a storied career at MIT as a professor in the Department of Biology and the founding director of the MIT Center for Cancer Research, now the Koch Institute. From MIT Press, Salvador Luria: An Immigrant Biologist in Cold War America is a compelling portrait of the Nobel-winning scientist.
Perhaps best known for his research on bacteriophages, Luria conducted work with viruses and bacteria in the 1940s. He joined MIT in 1960, and continued on to break ground in molecular biology and cancer research through the 1980s. What's more, Luria helped build MIT Biology into the department it is today by fostering a culture of excellence and recruiting cutting-edge scholars.
Luria was as much an activist as a scientist. Born in Italy, Luria was a refugee of Nazi Europe. Once an American citizen, Luria became a grassroots activist on behalf of civil rights, labor representation, nuclear disarmament, and American military disengagement from the Vietnam and Gulf Wars — for a time even blacklisted from federal funding review panels.
Author Rena Selya draws on extensive archival research; interviews with Luria's family, colleagues, and students; and FBI documents obtained through the Freedom of Information Act to create a compelling portrait of a man committed to both science and society.