Taking the world by storm
Jordan Benjamin, a double major in physics and EAPS, studies atmospheric science inside and outside the classroom.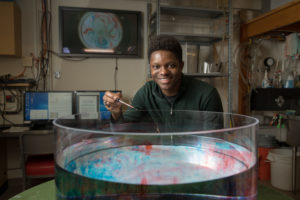 Senior Jordan Benjamin has childhood memories of staring through the window, eagerly listening to the NOAA weather radio to see if a storm was approaching.
Oftentimes, Benjamin was not alone by the window. His father, who grew up in the Caribbean and had experienced major hurricanes, liked to keep an eye on impending storms. Together, they observed the shifting weather patterns, making predictions about how storms would develop and tracking them as they grew stronger or weaker.
"I love interesting weather," Benjamin says. "It's my thing. Even before I came here I would look at weather models to see if there's going to be a big nor'easter."
For Benjamin, this fascination with the weather developed into something more: direction for his education and career.
"My interest in atmospheric science has always been there, as long as I can remember," says Benjamin. "I always knew what I wanted to study."
Today, Benjamin is a double major in physics and earth, atmospheric and planetary sciences (EAPS) at MIT, where he has been active in the community and his research. Between ongoing climate modeling projects and a full course load, Benjamin is deeply engaged in the academic world of atmospheric science. His work recently led to his selection for the 2018 EAPS Achievement Award, given in recognition of a junior who has made exceptional achievements in leadership and coursework.
But Benjamin's passion also continues to go beyond the classroom.
"Whenever there's interesting weather, I like to go out in it," he says.
Last year during a wind storm, Benjamin and a friend sat on a nearby bridge and leaned forward against the power of the wind. Over the past few summers while conducting research in Colorado, he joined friends to go storm chasing after hail and tornadoes. Last January, he says he walked around through one of the snow storms and recorded videos of the rising surge. "I must have walked 10 miles that day," he says.
While fascinating to him, Benjamin acknowledges that these storms seriously impact many people. After major hurricanes hit the Caribbean in 2017, Benjamin's father returned to help his family recover. "You have to respect these types of storms," Benjamin says.
An easy decision
Homeschooled near Atlanta, Georgia, Benjamin came to MIT with his sights already set on atmospheric science.
His early interest in weather and climate systems strengthened during an internship with his local National Weather Service office during high school, as well as his selection for the Research Science Institute (RSI) at MIT. Run by the Center for Excellence in Education, this program brings 80 of the world's most accomplished high school students to MIT to experience the entire research cycle. Benjamin worked with ocean engineering professors to examine river runoff following typhoons. He credits these experiences as his first glimpses of true atmospheric science research.
"They really solidified the value of what I wanted to do," said Benjamin. "RSI also elevated MIT in my eyes because I gained familiarity with a variety of programs and learned about the opportunities here."
Benjamin knew that MIT had strong departments in each of the areas he was interested in: atmospheric science, physics, and computer science. After his application was accepted, Benjamin says "it was a pretty easy decision to come here."
His decision was further validated during the First Year Pre-Orientation Program called Discover EAPS, which allows incoming first year students to explore extreme weather and climate through lab and field work. There, Benjamin first met EAPS Senior lecturer Lodovica Illari. He has been inspired by Illari and her work ever since.
"She's my favorite professor," said Benjamin. "And she's the nicest person you'll ever meet."
Benjamin recognized the importance of this program as an early introduction to EAPS research. He went on to be involved as a teaching assistant for DEAPS during the summers of 2017 and 2018.
During his first year at MIT, Benjamin says he decided to major in physics out of love for the subject. He soon added a major in EAPS and a minor in computer science.
While people may picture atmospheric scientists out in the field, Benjamin spends most of his time at a laptop writing code. He says that taking computer science classes on artificial intelligence and machine learning has been more useful in his field than he could have anticipated.
"I went into computer science to learn all the buzz words so I could at least know what's going on," he said. "But I think it's been really useful because I have a much better understanding of how to write good code. No matter what job I get in the future, I think it will be very useful."
Engaging in research
In addition to his full plate of coursework, Benjamin has pursued several research opportunities at MIT and beyond. In the summer of 2017, he participated in the Significant Opportunities in Atmospheric Research and Science program at the National Center for Atmospheric Research in Boulder, Colorado. His climate modeling research examined the impacts of climate change on circulation patterns and the implications for pollutant transport and surface air quality. Benjamin presented his findings at the 2018 American Meteorological Society (AMS) annual meeting, and won the undergraduate poster award.
Over the summer of 2018, he returned to Boulder through a NOAA Hallin Scholarship. Working in a NOAA lab, he decided to build on his previous research and examine stratospheric ozone intrusions. In low pressure systems, Benjamin explains, an infusion of stratospheric air can dump ozone and cause certain cities to surpass ozone thresholds. He presented this work at the 2019 AMS annual meeting and at the 2018 American Geophysical Union annual meeting.
During his senior year, Benjamin continues to expand on this work through his thesis research with Susan Solomon, the Lee and Geraldine Martin Professor of Environmental Studies. He is exploring different parameters and aspects of model construction, including how stratospheric chemistry and other factors influence model outcomes.
He is also working with Chris Hill, principal research engineer in EAPS, on an initiative to improve global climate models and reduce uncertainty. Benjamin says these models aim to capture smaller scale features such as low clouds over the ocean, which elude existing models but can impact climate.
"Our current climate models have a lot of sources of error," Benjamin says. "[This team] wants to build better climate models that use recent computing advances and other techniques to quickly and scalably make proper predictions."
Building community
In addition to his work with DEAPS, Benjamin says he has enjoyed being involved and engaging with the MIT community.
Through the MIT Weather and Climate Club, Benjamin has participated in a national weather forecasting competition called the WxChallenge, in which MIT is often ranked the top national team. Made up of faculty, graduate students, and undergraduate students, each university's team forecasts the high and low temperature, amounts of wind and rain, and other factors for a particular city.
"It's a lot harder than it sounds," says Benjamin. "I have friends at other universities who study atmospheric science, so we're always chatting about how everyone is doing in the competition. It's really fun."
Working with the Undergraduate Association Sustainability Committee, Benjamin also helped out with projects including expanding dorm composting efforts and improving recycling on campus. He also assisted with outreach efforts such as gathering student volunteers to pick up trash by the Charles River.
Benjamin says he will always remember these volunteer experiences at MIT.
"I like to be active and make changes in the community," says Benjamin. "You may forget certain classes, but you don't really forget the experience of interfacing with the administration about how recycling should work."
Looking ahead to his future, Benjamin is currently applying to graduate school. He hopes to leverage his background in computer science to solve issues in climate modeling.
As for his father, Benjamin says he too continues to keep an eye to the skies. "I think he's happy with my choice of career."