Susan Solomon earns Killian Award, MIT's highest faculty honor
Atmospheric chemist is recognized for her "leadership in working toward real-world solutions to address the global climate crisis."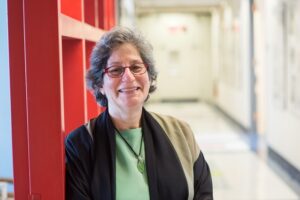 Atmospheric chemist Susan Solomon, whose pioneering scientific and environmental policy work has helped to shape international agreements for healing the ozone layer and mitigating climate change, has been named the recipient of the 2020-2021 James R. Killian Jr. Faculty Achievement Award.
The Killian Award is the highest honor the MIT faculty can give to one of its members, to recognize "outstanding contributions to their fields, to MIT, and to society."
"I am truly very, very touched," Solomon says. "I feel humbled, knowing how wonderful the MIT faculty is. I am overwhelmed, and I'll do my best to live up to it."
Solomon is the Lee and Geraldine Martin Professor of Environmental Studies in the Department of Earth, Atmospheric and Planetary Sciences and holds a secondary appointment in the Department of Chemistry. She joined the MIT faculty in 2012, following an influential 30-year career at the National Oceanic and Atmospheric Administration's Aeronomy Laboratory, in Boulder, Colorado.
Throughout her career, Solomon has strived to both meticulously study the interactions of the Earth's climate system and communicate key scientific findings to international negotiators, policymakers, and the general public.
"It is our great pleasure to have this opportunity to honor Professor Susan Solomon for the inestimable value of the discoveries she has contributed to atmospheric science and for the inspiring example of her engagement and leadership in working toward real-world solutions to address the global climate crisis," the award citation states.
Solomon is reknowned for having identified the link between chlorofluorocarbons, or CFCs — the chemicals given off by now-obsolete refrigerators, air conditioners, and building insulation — and the depletion of Antarctic ozone. Ozone is the layer in the stratosphere that normally protects the Earth from harmful ultraviolet radiation. Solomon was the first to show through theoretical work that human-made CFCs react with cold polar stratospheric clouds to eat away at ozone. She then led expeditions to Antarctica, where she collected the first direct measurements of reactive atmospheric chlorine compounds, which showed that CFCs were indeed the cause of the widening ozone hole there.
Her findings helped to shape the Montreal Protocol, an international agreement signed by nearly every country in the world that pledged to end the production and use of CFCs worldwide. In 2016, her research group at MIT identified the first encouraging signs of ozone recovery over Antarctica, as a direct result of international cooperation to phase out the ozone-depleting chemicals.
Solomon has also turned her focus to climate change, and has taken leadership roles in shaping international climate policies. From 2002 to 2008, she was co-chair of the Intergovernmental Panel on Climate Change's (IPCC) Working Group 1, where she played a leading role in communicating to international policymakers key scientific findings that helped inform the language of the Paris Agreement, the global treaty that commits participating nations to reduce greenhouse gas emissions.
"The process of scientific input to climate negotiations is essentially about rephrasing the science in ways that are still accurate, and in my opinion, understandable to a wider range of people," Solomon says. "If the policy people can understand the science, then lots more people will be able to understand it than if you had written it in your turgid scientific prose. And that's a good thing."
For their efforts, the IPCC, in equal part with Al Gore, was awarded the 2007 Nobel Peace Prize.
At MIT, Solomon and her research group continue to explore questions related to the ozone layer, including the ways in which particles in that part of the stratosphere interact in tropical regions. They are also looking into the links between changes in stratosphere and and changes in climate at the surface, particularly on sea ice in the Arctic.
In addition to her research and teaching at MIT, which the award citation states "combines rigorous examination of the fundamentals with practice in engineering, policy, economics, and the history of science," Solomon has played a key role in shaping the Institute's new undergraduate minor in environment and sustainability, which was launched during her tenure as the founding director of MIT's Environmental Solutions Initiative.
Solomon is currently on sabbatical in Boulder, where she is writing a new, optimistic book that will explore the ways in which the world has successfully dealt with environmental issues in the past, ranging from eliminating lead from gasoline, to reducing smog, and of course, curbing ozone depletion.
"I think it's a message of hope for our environmental future," says Solomon, who notes that a key contributor to each of these successes was an interested, invested public.
"The level of public attention to climate change has increased incredibly in the last two to three years, and I attribute some of that to how perceptible the problem has become," Solomon says. "A whole sequence of events, such as the record-breaking temperatures in the European heat wave of 2019, just slapped us in the face in the last several years, and people are starting to pay attention. And that's step one. Nothing happens without public understanding."
She credits her MIT colleagues, and the Institute as a whole, for supporting cooperation, rather than competition, between researchers.
"MIT institutionally is unmatched in how it encourages collaboration between faculty members, which fosters tremendous amounts of creative thinking," Solomon says. "Scientists worldwide are a joy to work with. They're after the truth, they're after the best future, and the best facts that we can provide to people."
Solomon earned her BS in chemistry from the Illinois Institute of Technology, and an MS and PhD in chemistry from the University of California at Berkeley. She has received numerous awards in recognition of her science and international policy work, among them, the U.S. National Medal of Science in 1999, and in 2010 the Chevalier de la Légion d'honneur from the French government — an honor typically reserved for French citizens.
"Professor Solomon has received even more awards and honors — more than can be recounted here," the award citation goes on. "But we must include one of the most unusual and certainly the coolest, both figuratively and literally: In 1994, both Solomon Glacier (78°23'S, 162°30'E) and Solomon Saddle (78°23'S, 162°39'E) were named in honor of Professor Solomon's leadership in Antarctic research."
This article first appeared on MIT News.