Shirley Jackson speaks about her career and being an agent for change
Professor Paula Hammond talks with MIT Corporation life member about her experiences as an MIT student, research scientist, and university president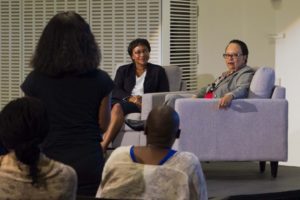 On Sept. 26, Shirley Ann Jackson '68 PhD '73 returned to campus for a discussion with an audience of students, alumni, and friends about her career highlights and the direction of science education.
Jackson is the president of Rensselaer Polytechnic Institute (RPI) and an MIT Corporation life member. She received her bachelor's degree from MIT in 1968, continuing her graduate work, in part, to create opportunities for other underrepresented minorities at MIT. She earned a doctorate in particle physics in 1973, becoming the first African American woman to receive a PhD from MIT and the second African American woman in the United States to earn a doctorate in physics.
Roughly 100 people, including students, alumni, and administrators joined Jackson for the conversation in the Media Lab, while others joined the live Facebook webcast. Paula Hammond, a David H. Koch Professor in Engineering and the head of MIT's Department of Chemical Engineering, facilitated the conversation hosted by MIT School of Science, MIT School of Engineering, and the National Science and Technology Medals Foundation (NSTMF).
Andy Rathmann-Noonan, executive director of NSTMF, opened the event by acknowledging Jackson as one of MIT's 63 laureates who have received the nation's highest honor in science or technology and innovation.
"Behind each one of these discoveries, and hundreds more, are extraordinary individuals who have struggled and persevered to answer some of the world's biggest questions and solve its toughest challenges," said Rathmann-Noonan. "But they were all in your shoes at one point in their lives."
MIT President L. Rafael Reif then took the podium to introduce the evening's distinguished alumna.
He spoke about Jackson's time at MIT, including the "profoundly important role" that she played in the Task Force for Educational Opportunity, a group led by the late Paul Gray, MIT president during Jackson's time as a student.
Reif said Jackson, Gray, and others on the taskforce "put MIT on the path to become the diverse community we know today. I believe, however, that it's still worth asking that same question [posed by the taskforce]: 'How can we together make this place change?'"
Bees, Brown v. Board of Ed, and Sputnik
Hammond began her line of questioning asking who or what inspired Jackson to pursue science. "Bumblebees got me started," said Jackson who detailed how she would systematically observe and modify their behavior as a budding scientist interested in the natural world.
She also spoke about her parents as "aspirational role models," specifically her father, an officer who earned a Bronze Star during World War II for an ingenious mechanical solution for amphibious vehicles with malfunctioning rudders.
Jackson said that the confluence of two events in her early education "changed her educational trajectory" toward science and engineering: the Brown v. Board of Education Supreme Court decision and the launch of Sputnik, the first satellite to orbit Earth launched by the Soviet Union.
With the Brown v. Board of Education Supreme Court case decision to desegregate public schools, in practical terms, Jackson said it mean that "instead of traveling miles across town, my sisters and I got to go to school around the corner," said Jackson. The integration of the schools came with a new tracking system, and Jackson was placed in an accelerated honors track.
"That coincided with the interest in the country after the Sputnik launch to strengthen math and science in the public schools — and I am a public school product — and so I ended up with a very strong academic background," Jackson said. "I was my high school valedictorian, and I came to MIT."
Change agent
Hammond followed with the question: "At the time you decided to attend MIT there were very few people of color visible in the sciences anywhere, including on this campus. What was it like to be a black student entering MIT at that time?"
"On the one hand, it was exhilarating being at MIT." Jackson replied. "I wanted to be a scientist and I loved the subject matter. But on the other, it was isolating and rather lonely. I can't say it was easy. The academics were never the problem."
Although admitting to being "a bit a nerd," Jackson said that most of her "social life" happened off-campus, such as her membership in the Delta Sigma Theta sorority, which included friends in the audience such as Jennifer Rudd '68 and Linda Sharpe '69, former president of the MIT Alumni Association.
In response to Hammond's question about being a "change agent" to improve the quality of education for underrepresented minorities at MIT, Jackson detailed how she, Rudd, and Sharpe were galvanized by the murder of Martin Luther King Jr. in April of 1968.
"I had been a pretty quiet student before then, focusing on what I was doing: physics, working in the lab," Jackson said. But after that pivotal event, Jackson gathered Rudd, Sharpe and others to "present some demands. By the time they were written, they were called 'proposals.'"
The proposals that Jackson and others presented to then MIT President Gray formed the foundation of the Task Force for Educational Opportunity. Jackson described the discussions on financial aid, recruitment, and summer programming, which later became MIT's Interphase program to boost the numbers of African-American students.
"We did go from having three to five African-American students per year, to 57 the year after we started the task force," said Jackson. Hammond noted that Jackson was doing this work while a doctoral student in particle physics.
Jackson said completing the academic work was a foregone conclusion. "It's important to focus on what one is here for. […] I felt that it was important that African-Americans, as I feel it's important for many [others] to study and become scientists and engineers, and that I become one," she said in a list of advice that she gave to students.
Vision and leadership
Hammond then switched gears to ask Jackson about her time at Bell Labs, as well as her time as the chair of the U.S. Nuclear Regulatory Commission (NRC) under President Bill Clinton.
"That was a big change because I had to walk away from my tenured professorship and what I was doing," said Jackson who joined the NRC in 1995. Jackson talked about how nuclear incidents, such as the accident at Three-Mile Island and the Chernobyl disaster, were informing the nuclear industry and people's perceptions about the future of nuclear power.
She said that she wanted to provide the NRC with a vision and direction to "reaffirm its fundamental health and safety mission and enhance its effectiveness" as a regulatory body. As chair, she also developed a new licensing and renewal process, as well as established the International Nuclear Regulators Association that still exists today.
In 1999, President Clinton asked Jackson to serve an additional term as NRC chair, but she opted instead to become president of RPI.
Hammond asked, "What was exciting and appealed to you about taking on this new role?"
"First of all, I'm an MIT grad, right?" Jackson said. "So to be able to become the president of another great technological university was a big thing."
Hammond followed up by asking about Jackson's thought process in laying out and executing a vision for RPI.
"[RPI] is a place that has turned out people who've made some of the greatest impacts, as MIT has, on our lives — not just nationally, but globally," said Jackson. "The university needed an aspirational vision," said Jackson, "and that was to become a top-tier, world-class technical research university with global reach and global impact."
Hammond concluded the formal part of her questions by asking Jackson why, in an already busy schedule, she adds leadership positions such as serving on the President's Council of Advisors on Science and Technology, the Secretary of Energy's advisory board, and, most recently as co-chair of President Obama's Intelligence Advisory Board.
"[There's] a unique role that scientists and engineers can play in making a difference in people's lives," said Jackson. "Because of that, if I could do it, at the levels that I've been asked to do it, that it's important to serve."
Hammond then opened the floor to questions, many of which came from students, including one question from junior Anthony Rollins, current events co-chair of MIT's Black Students Union.
"What made you want to leave tech and industry for administration and policy?" Rollins asked.
"There are many ways to make contributions. And one can make them directly being in science and engineering, but one may come a point where one feels there are ways to take that knowledge and background and have a broader impact across a broader front," said Jackson. "But, I've never done public policy that doesn't link to science and technology."
"What I do today is less about my doing research directly, which is what I did early in my career, but enabling others and bringing along the next generation of scientists and engineers."