JoAnne Stubbe and Stephen Buchwald are giving back
Two faculty members share their reasons for supporting the Chemistry department with endowment funds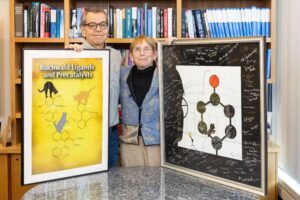 JoAnne Stubbe, Novartis Professor of Chemistry emerita, calls herself "just a science nerd"; never mind the National Medal of Science presented to her by President Barack Obama in 2009 or the numerous other honors achieved in a career that has spanned several outstanding academic institutions over 45 years.
"I've been lucky to be paid to pursue my passion for scientific discovery my whole life," Stubbe says. She retired in 2017 after 30 years at MIT where she was the first woman to achieve tenure in chemistry.
Stubbe began her academic career at Williams College, then moved to Yale University Medical School, and then to the University of Wisconsin in biochemistry. She finally received tenure while at Wisconsin after 13 years as an assistant professor, before she was recruited by MIT's chemistry department.
"The journey helped me achieve the self-confidence required to be 'successful' and gave me the freedom to continue to work in the lab and to teach," says Stubbe.
She considers teaching to be her most important contribution to MIT, but Stubbe says that being here also allowed her to advance her research in a way that wouldn't have been possible elsewhere. Even now, she enjoys looking the MIT webpage each morning to read about new discoveries. "You just pinch yourself and squeal because something exciting was discovered," she says. "That's what MIT is about. You're surrounded by people who are passionate and love what they're doing."
Stubbe recently established an endowment fund to support women graduate students in chemistry. The CKJJ STUBBE Fund is named for Stubbe's nieces, Camille Stubbe (C) '18, who majored in chemical engineering and Kendra Leith (K) MCP '09, who is now associate director for research at MIT's D-Lab; her brother James Stubbe (J), who received a degree in chemistry at MIT; and herself (J).
"I was interested in establishing the endowment because MIT has given me the freedom to be immersed in an environment where there is so much exciting science going on and to pursue my dreams," says Stubbe. "You are surrounded by outstanding and highly motivated students and colleagues who you can easily convince to collaborate, and I'm grateful for all of that."
In her early years at MIT, Stubbe received advice about the difference between stocks and bonds, and the importance of finding the right financial advisor, from junior colleague Stephen L. Buchwald, now the Camille Dreyfus Professor of Chemistry.
Buchwald and his spouse Susan Haber, both long-time friends of Stubbe at this point, are no strangers to philanthropy. In 2015, for his 60th birthday celebration, they established the Buchwald-Haber Family Fund to support graduate students in organic chemistry.
"I realized that the vast majority of my success is due to the students and postdocs I've had, and it was important to give back," says Buchwald. "I was fortunate enough in 2015 to win a prize which was a lot of money, and that is where I got the idea [for the fund]."
Buchwald is associate head of the Department of Chemistry and recognized as one of the world's most influential chemists. Most recently, he received the 2021 Award for Creativity in Molecular Design & Synthesis from the North Jersey Section of the American Chemical Society and the inaugural Akira Suzuki award. Buchwald will also be presented with the Paul Karrer Gold Medal, one of the oldest awards in chemistry, in Zurich this summer.
Over 38 years at MIT, Buchwald has often felt frustrated by the high cost of supporting graduate students, whose development and contributions, he says, form a vital part of the academic and scientific ecosystem and lead to practical, real-world change.
"The great universities have had an enormous impact on society, [including a] massive economic impact from ideas and inventions," Buchwald says, citing discoveries made by young researchers who are driving progress and pushing boundaries—such as magnetic memory for computers, various strides in biotechnology, and artificial intelligence.
"MIT graduate students and postdocs are brilliant," says Buchwald. "Even if I'm as smart as some of them, which is questionable, I've been able to recruit a very diverse group of people who will think about problems differently, and they've led me into different areas," he adds, referencing an almost 10-year collaboration between Professor Bradley Pentelute's group and the Buchwald group.
Buchwald knows that he brings a valuable level of experience and perspective to the department from years of interacting with different people. But considering the genius he sees in the work of junior colleagues, he thinks that his retirement may come in the next five to 10 years. "Every day when I'm coming in, I think to myself, 'today's going to be the day they figure out they made a mistake in hiring me,'" Buchwald jokes. "I tell [my students], you know much more than I do about what you're working on, and I just bring in an overview."
Above all, Buchwald takes pride in the way that the department invests in people, noting that many of his colleagues, like himself, started at MIT as early-career researchers. "I think that's a tribute, that we try to grow our own," he says. "I'm exceptionally proud that I've been at MIT my entire career."
The Buchwald-Haber Family Fund is helping make that kind of investment possible. The fund has already supported seven graduate students in the laboratories of junior faculty members from investment income alone. Whenever retirement comes, Buchwald's scientific legacy will continue in untold discoveries to be made by future students in organic chemistry.
Meanwhile, Stubbe is also still doing research. These days, she works in the lab of a Harvard University collaborator as frequently as five days a week. "It's not work, it's fun," she says. That's what drives me. I get up in the middle of the night and write down ideas. It's been like that forever. I can't stop thinking about it."