Giselle Valdes: From aspiring scientist to Future Fund of Science Fellow
Valdes, biology doctoral student and MIT summer research program alumna studies the cellular basis of regeneration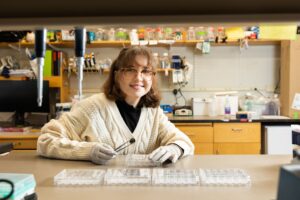 When Giselle Valdes was in middle school, CRISPR-Cas9, the revolutionary genetic engineering technique, became a reality. As someone who had seen family members struggle with genetic diseases, Valdes was immediately intrigued.
"Could you imagine that, as opposed to only being able to treat the symptoms of certain diseases, you could cure the disease itself?" says Valdes. "I was just blown away by the potential implications of the technology and, ever since then, I was like 'I want to be involved in this.'"
That realization set Valdes on the path to where she is today, a third-year doctoral student in the lab of Peter Reddien, a professor of biology and associate director of the Whitehead Institute. Valdes, along with Amanuella Mengiste, a fellow PhD student in chemistry, are the most recent recipients of the Future Fund of Science Fellowship.
As a middle schooler, though, Valdes had no idea what being a scientist even meant. So, she did what any precocious Gen Zer would do: she turned to the internet, googling how to become a scientist and emailing professors at local universities to help her.
"A lot of people told me not to stress too much at the stage I was in," she laughs. Stephen Winkle, an associate professor of chemistry and biochemistry at Florida International University (FIU), was one such scientist who responded to her questions. Winkle became an important mentor for Valdes and, later, her research advisor when she enrolled as a student in FIU's Honors College several years later.
At FIU, though much of her research was in biochemistry, Valdes majored in biomedical engineering. She says that her undergraduate program was oriented towards building medical devices, with more courses in mechanical and electrical engineering than biology. But she sees ways her engineering background has informed her research in biology.
"The computational tools that undergrad afforded me have been invaluable," she explains. "I like the thought process of an engineer, and I think it's helped me think about my project now as a scientist in a unique way."
What convinced Valdes to fully transition into biology, though, was a summer spent at MIT. Leading up to her senior year, she was accepted into the Bernard S. and Sophie G. Gould MIT Summer Research Program in Biology (BSG-MSRP-Bio). She describes that experience as "going to Disney World for the first time" — high praise coming from a Florida native.
"That was my first exposure to high-intensity, high-output science, to an environment where everyone was hyper-focused towards achieving this goal of expanding the human knowledge base," says Valdes.
During the internship, she worked in the lab of Eliezer Calo, an assistant professor of biology. The Calo Lab is interested in ribosomes, the small cellular particles that translate RNA into proteins, and how mutations in ribosome development can lead to disorders and cancer. Valdes was interested specifically in the causes and progression of Treacher Collins syndrome, a rare genetic disorder that affects the development of the face and skull.
Calo — a BSG-MSRP-Bio alumnus himself — says that Valdes, with her curiosity, motivation, and enthusiasm did an incredible job that summer.
"I was truly delighted to have Giselle join the lab," he says. "From the day she started, it was clear that she is a gifted, smart, and highly creative young scientist — intellectually, conceptually, and experimentally."
According to Valdes, the environment she found in the Calo Lab, and MIT broadly, was as valuable as the research experience itself. She says that everyone was incredibly welcoming and took significant time to train her on molecular biology techniques and methods that were all new to her.
"It was expected and welcome for you to step outside of what you knew and your comfort zone and grow as a scientist," she says, "and the tools and community were here for you to do that."
By the end of the summer, Valdes knew that if MIT accepted her into a graduate program, she'd go. Fortunately, she was accepted; the next year, Valdes joined the PhD program in Department of Biology.
"You got the sense that everyone really cared and wanted you to succeed as a scientist," says Valdes of her initial reaction to the department. "It was a place where I felt that I could grow as a scientist in the ways I wanted to."
Coming from biomedical engineering, Valdes spent her first year rotating through labs and taking foundational biology courses to help her "make a more rounded decision" about the kind of research she wanted to do. She quickly fell in love with cell and developmental biology and decided to join the Reddien Lab, which focuses on the cellular and molecular processes behind regeneration in various species.
Valdes works on planarians, a type of flatworm that can regenerate its entire body. She focuses, specifically, on stem cell differentiation, trying to understand how stem cells decide what kind of final cell type they'll evolve into, a critical step in development and regeneration. While she stresses that she's very much doing basic biology research, she's almost giddy about its potential applications in the future.
"This might seem almost sci-fi, but wouldn't it be cool to get a mammalian system to fully regenerate organs and body structures?" she exclaims.
Throughout her graduate studies to-date, Valdes has remained steadfastly enthusiastic about a career in science. She also remains grateful for the mentors that have helped her get to this point. At MIT, that includes Reddien, Calo, and Mandana Sassanfar, the biology department's director of diversity and science outreach who recruited Valdes to the BSG-MSRP-Bio program. At FIU, it includes Winkle, of course, who first exposed her to what it meant to be a scientist. It also includes the administrators of FIU's McNair Scholars Program, named for Ronald E. McNair, PhD '77, an accomplished astronaut who received his doctorate in physics from MIT and tragically perished onboard the Challenger space shuttle. The McNair program, Valdes says, provided networking opportunities, such as the one that connected her to Sassanfar, and enabled her to attend conferences and undertake research as an undergraduate.
"These outreach programs and mentorship opportunities were invaluable in getting me to where I am today," says Valdes.
As for her most recent accomplishment, securing the Future Fund of Science Fellowship, Valdes says she is incredibly grateful for the recognition. She's also excited for how the fellowship will allow her to take risks in her research and push the bounds of scientific discovery, just as she had hoped to do back in middle school.
"Being a student at MIT has given me the opportunity to take an active role in shaping our understanding of the mechanisms of genetic expression with tools and support I don't think I would have had otherwise," she says. "I'm very grateful for the opportunity to be here, and I'm excited to develop as a scientist in this program."
Leah Campbell | School of Science