Foundation and future of MIT's life sciences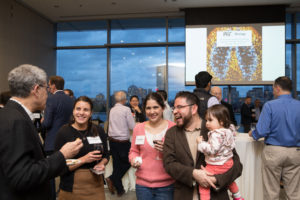 Members of the MIT biology community came together on October 17, 2019, to discuss the future of biology at MIT during the second annual Friends of Biology Reception held at the Samberg Conference Center.
Guests, including alumni, parents, supporters, and industry representatives, had the opportunity to mingle with faculty and students. They discussed topics including the importance of basic science and research, cross-disciplinary partnerships with the recently founded MIT Schwarzman College of Computing, and the many applications of this research outside of academia.
Alan Grossman, Praecis Professor of Biology and head of the department, opened the program by thanking attendees for their crucial roles in enabling MIT to remain at the forefront of the intersection of education, research, and industry. Grossman also highlighted the challenges the
department faces relative to decreases in federal funding and the long-term impact this could have on the graduate program.
Reflecting on the event, Grossman said "It was wonderful to see so many familiar faces at this year's event and welcome new friends of the department to share with them some of the exciting work taking place in biology and where we see life science heading in the years to come."
Grossman's introductions were followed by presentations from three graduate students: Sophia Xu from Associate Professor Jing-Ke Weng's lab, Tyler Smith from the lab of Latham Family Career Development Professor Sebastian Lourido, and Darren Parker from Assistant Professor Gene-Wei Li's lab. The event also included a presentation from Madeleine Kline, an undergraduate student, who shared her perspectives on being exposed to world-class research at such a young age.
"These students come from very different backgrounds and were able to make clear the importance of the educational opportunities, many of which are funded by folks in attendance, that helped make it possible for
them to pursue their passions in life science," said Daniel Griffin, senior development officer for the Department of Biology.
"We hope this event will continue to serve as an opportunity to thank our supporters and also as a platform to make connections with new members of the life science community," he added, "including guests from the local
biotech and pharmaceutical industries, with whom we look to collaborate more closely in the future."
Also in attendance were Donner Professor of Mathematics and School of Science Dean Michael Sipser, School of Science Assistant Dean for Development Elizabeth Chadis, Howard Hughes Medical Institute and American Cancer Society Research Professor Graham C. Walker, and Assistant Professors Seychelle Vos and Gene-Wei Li.
This article was featured in Science@MIT's Winter 2020 issue