Exploring unknowns in cancer, the human brain, and the road ahead
Double major Kerrie Greene builds connections in her research and her community.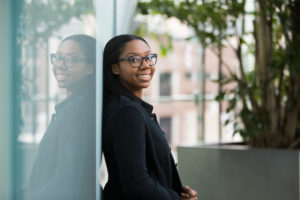 Looking up at the sun-filled atrium of the Brain and Cognitive Sciences Complex, MIT senior Kerrie Greene smiles. "I love this building," she says about the place that houses the lab where she first became interested in the inner workings of the human brain.
Greene juggles many roles on campus and in her personal life — vice president of her dorm, neuroscientist, bioengineer, volleyball player, older sister — and she doesn't plan to slow down any time soon. With her medical school applications complete, Greene is currently interviewing at prospective programs. She says she enjoys being involved and working hard, but it hasn't exactly been easy.
"I'm just happy to have made it to senior year," Greene says with a laugh. "And I'm very excited for the future."
Finding direction
Raised in Atlanta, Greene arrived on campus the summer before her first year, as a participant in Interphase EDGE, a program administered through the MIT Office of Minority Education that allows students to acclimate and transition to life at MIT.
"I'm very fortunate to have done Interphase," Greene says. "Starting out my freshman year, I was very confident in terms of living in Boston and already having a great friend group. Students from the program are still some of my best friends."
Greene says one of her goals in coming to MIT was to study drug design, a topic that incorporates her interests in both medicine and engineering. For Greene, drug design offers a chance to increase the efficiency and accessibility of new drugs, and ultimately maximize their impact and reach. She found the ideal first major in bioengineering.
Then, as a sophomore, Greene read a description of the social cognition research led by Rebecca Saxe, a professor of cognitive neuroscience, and began working in the Saxe lab through the Undergraduate Research Opportunities Program (UROP). Greene was instantly hooked.
"The more involved I was in the lab, the more I wanted to learn about the brain," Greene explains. "I knew I had to take classes in brain and cognitive sciences."
Inspired by Saxe's research, she added brain and cognitive sciences as a second major her junior year. For Greene, the intense coursework is outweighed by her passion for both fields. "It's been great," she says. "I've really enjoyed getting to know students in both schools. Whichever class I'm in is the major I like more."
Infant brain development
Greene's work in the Saxe lab explores an area with many unknowns: infant and early childhood cognition, learning, and brain development. Working with postdoc Lindsey Powell, Greene is studying how 7- and 8-month-old babies evaluate and respond to imitation.
In the observation room where she conducts these studies, Greene describes how the team sets up a monitor to record infants' reactions as they sit on their parents' laps and watch various stimuli and animations. One animation, for example, depicts a "nonimitative" social interaction (one person performs a gesture and the other performs a different gesture) and then shows an "imitative" social interaction (one person performs a gesture and the other person performs the same gesture). Greene and her collaborators watch the recording to observe the infants' reactions, including how long various animations hold their attention. The team then compares these findings to brain measurements they take using infrared spectroscopy.
"Infrared spectroscopy uses the same type of light you'll see in a pulse oximeter," Greene explains. "We put this little cap around the baby's head to measure blood-oxygen level changes, which we can correlate to brain activity."
Greene says the team aims to create a fun and welcoming environment for the families involved in their studies. "My favorite aspect of working in the lab is meeting the families and babies," she says. "It's absolutely fantastic, and I feel like I've grown so much as a scientist through the lab."
Advancing cancer therapies
Beyond the Saxe lab, Greene spent the past two summers conducting bioengineering research at the Mayo Clinic — "a life-changing experience, honestly," she says.
She worked with Maryam Raeeszadeh-Sarmazdeh, a senior research fellow, in the laboratory of Evette Radisky, a professor of cancer biology. Radisky's team uncovers strategies to target natural interactions between enzymes and inhibitors that have been linked to cancer. Greene's work focused on a group of enzymes called matrix metalloproteinases (MMPs). Responsible for breaking down proteins, these enzymes can also promote the development and progression of cancer. Since previous MMP inhibitors were ineffective and lacked selectivity, Greene worked with a team striving to develop drugs that specifically inhibit MMPs' tumor-driving activity.
"There are natural inhibitors of this proteinase called tissue inhibitors of metalloproteinases, or TIMPs," she says. "We were able to engineer TIMPs to bind with a higher affinity and specificity."
Greene and the team at the Mayo Clinic will soon publish a paper highlighting their results and progress in these efforts. Greene also helped present their work this past September at the Bioengineering and Translational Medicine Conference in Boston.
Building community on campus
Outside of the lab, Greene is the vice president and treasurer of her dorm, McCormick Hall. The only all-women residence hall on campus, McCormick has been Greene's home through all four years at MIT.
"I've made a great group of friends there," says Greene. "I also love being able to go back to my dorm, have my own space, and clear my head — and it's clean!" Greene laughs.
Greene also found community on MIT's volleyball team during her first and second years. "There aren't many other sports where you have such a high concentration of people in such a small square — 30 by 30 feet," she says. "Communication is super key and it's just a good way to release energy and have fun. It was a great part of my MIT experience."
With two majors and graduate school applications looming, Greene decided to focus on her academic commitments in her junior and senior years. She continues to join the club team occasionally to relieve stress, and always makes time to play volleyball with someone special to her whenever she visits home: her younger sister, Kalissa.
"She's 15 and she's really everything to me," Greene says, her face lighting up at mention of her sister. "She's killing it in school, she's killing it in sports; she's already taking her AP computer science classes. I think she would thrive at a place like MIT."
Looking ahead
In addition to close ties with her family, Greene says she's received crucial support from her faculty advisors and mentors at MIT, particularly Rebecca Saxe; Doug Lauffenburger, a professor of bioengineering; and Emery Brown, a professor of medical engineering and computational neuroscience. Greene says she's also grateful to have friends who applied to medical school and can relate to the challenges it presents.
Still passionate about both bioengineering and neuroscience, she notes that her exact focus in graduate school will be shaped by the program she selects.
"I've been working really hard for the past three years, going on four," Greene says. "I'm just excited to continue working hard. I get to start my next chapter."
This article first appeared in MIT News in November 2018.