EAPS Professor Susan Solomon helped set the Doomsday Clock
Addressing climate change, Solomon was among scientists who revealed the clock's 2021 position at 100 seconds to midnight.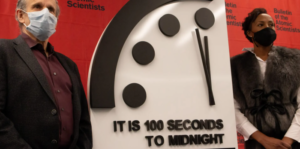 The hands of the Doomsday Clock will remain at 100 seconds until midnight, the Bulletin of the Atomic Scientists announced at a virtual event January 27, 2021. The Doomsday Clock is a 75-year-old symbol for the global threat posed to humanity by nuclear weapons, climate change, and disruptive technologies. The clock's current position at 100 seconds to midnight was set in 2020, and is the closest it has ever been to disaster.
Susan Solomon, the Lee and Geraldine Martin Professor of Environmental Studies at MIT and the Founding Director of MIT's Environmental Solutions Initiative, is a member of the Science and Security Board, the group of internationally renowned leaders and scientists tasked with setting the clock's hands.
Solomon is known for her work which linked chlorofluorocarbons with a hole in the Antarctic ozone. Solomon's work went on to shape international policy. She worked at the National Oceanic and Atmospheric Administration's Aeronomy Laboratory for 30 years before joining MIT in 2012. Last May, she was recognized by MIT with its highest faculty honor as the recipient of the 2020-2021 James R. Killian Jr. Faculty Achievement Award for her "leadership in working toward real-world solutions to address the global climate crisis."
The Bulletin's Science and Security Board released a detailed report about their 2021 decision, noting that while Covid-19 itself will subside, the crisis has offered "a historic wake-up call, a vivid illustration that national governments and international organizations are unprepared to manage nuclear weapons and climate change." Solomon spoke about climate issues at the 2021 event, noting both promising developments and worrisome trends from the past year.
"The picture is basically mixed," she said. "There's a great deal of concerning news about how the climate is changing already, and how the world has responded. But the election of an American president who acknowledges climate change as a profound threat, and supports international cooperation, and science based policy puts the world on a much better footing to address global problems."
Her address began by noting that global carbon dioxide emissions dropped about 17 percent last year amid Covid-19 as people stayed home. However, emissions are already back up to around where they were before the pandemic.
"The emissions are expected to increase as the world emerges from the pandemic unless we take very deliberate policy steps," Solomon said. "We need to reduce fossil fuel use and the emissions of other greenhouse gases. And of course, disease induced changes in emissions are nobody's idea of a desirable future, nor are they sustainable."
On January 27, 2021, scientists, including MIT Professor Susan Solomon, unveiled the doomsday clock, and discussed its position at 100 second until midnight.
Solomon also addressed the occurrence of severe natural disasters throughout 2020, brought on by warming of the planet. Sea levels rose, devastating wildfires tore through Australia and western North America, and increasingly violent hurricanes and typhoons made destructive impact.
Yet Solomon also shared some spots of good news. Renewable energy excelled during the pandemic. For the first time in U.S. history, coal is expected to provide the nation with less energy than renewable sources. And under a new presidential administration, the United States has announced an intention to rejoin the Paris Agreement, an international climate change treaty that aims to keep global warming under 2 degrees Celsius.
"Next, the US and other countries should accelerate commission commitments to decarbonize and put policies in place that make the attainment of those commitments feasible," Solomon said at the conclusion of her speech. "Fundamentally, I would say that we're at a crossroads. We're at a very dangerous crossroads, and it's the choices that are just about to come that will determine our path."
This article first posted on MIT EAPS