Arctic Adventure: Exploring with Technology
Museum exhibits can be a unique way to communicate science concepts and information. Recently, MIT faculty have served as sounding boards for curators at the Museum of Science, Boston, a close neighbor of the MIT campus.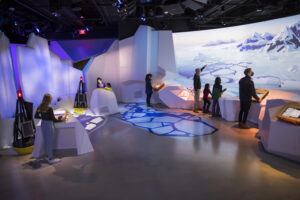 In centuries past, it took exceptional effort—and a hefty dose of luck—for polar explorers to survive an expedition across the tundra, glaciers, and icy waters of the Arctic Circle. Since then, modern technology has revolutionized our ability to access and explore these remote and often harsh areas—making polar research safer and bringing in scientific data that even the most curious and intrepid early explorers could never have dreamed of.
Now, by touring the "Arctic Adventure: Exploring with Technology" exhibit, visitors to the Museum of Science can step into the shoes of modern-day polar researchers and discover firsthand the remarkable ways technology helps us learn about these critical regions of the world.
The new permanent exhibit revolves around interactive displays and an immersive design—bringing to life the unique land- and seascapes of the far north through sight, sound, and touch. The experience ranges from discovering the extremes of seasonal sunlight patterns, to hearing the calls of wild animals and feeling the frigid Arctic temperatures of an ice wall you can reach out and touch.
"The overarching goal is to emphasize the beauty and the fragility of the polar environments," says Brent Minchew, the Cecil and Ida Green Career Development Professor in MIT's Department of Earth, Atmospheric and Planetary Sciences. Minchew, a geophysicist who specializes in glaciers and their role in Earth's climate system, provided input and advice to the museum throughout the exhibit's two-year development.
"What's happening in the poles is critically important for a variety of reasons," says Minchew. "They're bellwethers for what's happening in the rest of the climate system. Glaciers shrinking and polar bears losing their habitat and these sorts of things are powerful indicators of what is going on in the world as the climate changes."
Alice McBride | Department of Earth, Atmospheric and Planetary Sciences
This article first appeared in the Summer 2022 issue of Science at MIT.