Amy Keating named head of the Department of Biology
The computational structural biology researcher continues to serve the department and the MIT life sciences community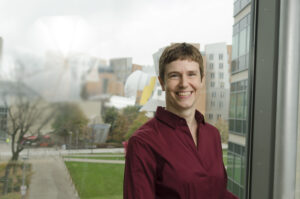 Amy E. Keating, the Jay A. Stein (1968) Professor of Biology and a professor of biological engineering, has been named head of the Department of Biology, effective Aug. 15, 2022. She succeeds Alan Grossman, the Praecis Professor of Biology at MIT, who led the department since 2014.
"Professor Keating is a leading researcher in her field, employing computational techniques to understand how malfunction of proteins leads to disease," says Nergis Mavalvala, the Curtis (1963) and Kathleen Marble Professor of Astrophysics and the dean of the MIT School of Science.
In addition to leadership in her research — among other roles, she was recently the president of the Protein Society — she has served in key department leadership roles, including her most recent positions as associate department head and graduate officer. "In addition to her world-class research, Amy's teaching and service to the department, MIT, and the broader scientific community are exemplary," Mavalvala says.
"I hope to create additional opportunities for MIT biology to maintain and grow our excellence in research, teaching, mentorship, and service."

Amy Keating
Keating served on the search committee for the director of the Whitehead Institute for Biomedical Research as well as the selection committee for the dean of the School of Science. With Associate Professor Mary Gehring, Keating is co-director of the biology graduate program, and since 2012 she has been the co-PI with Professor Stephen Bell on the department's National Institutes of General Medical Sciences doctoral training grant.
"I look forward to continuing to work with the members of our department — students, faculty, and staff — to create a rich and diverse environment in which all our community members feel they belong and can thrive," says Keating, who is also a member of the Koch Institute for Integrative Cancer Research. "I hope to create additional opportunities for MIT biology to maintain and grow our excellence in research, teaching, mentorship, and service."
Keating's research focuses on interaction properties of proteins encoded in their sequences and structures. She investigates protein–protein interactions by integrating data from high throughput assays, structural modeling, and bioinformatics with biochemical and biophysical experiments.
Her research group studies proteins that regulate critical processes, such as cell death regulated by the Bcl-2 family of proteins. Keating has developed methods to reprogram the interaction between proteins, and applying these methods to Bcl-2 proteins has generated peptides that inhibit processes that keep cancer cells alive. Other areas of research include α-helical coiled-coil proteins and protein domains that bind to short linear motifs. For her research, Keating received a National Institutes of Health Transformative R01 grant designed to support innovative, high-risk, and unconventional research projects with the potential to transform a field of science.
"Amy's research has opened the door to using computational biology to address fundamental questions in protein–protein interactions, and to design peptide inhibitors with therapeutic impact," says Grossman. "Amy's interests and research fit well with the growing area of computational biology and are at the interface of several areas, including computation, biophysics, biochemistry, biological engineering, synthetic biology, and of course the MIT Schwarzman College of Computing. This is an area of strength that continues to increase in the department and at MIT."
Keating helped institute the department's professional development requirement for graduate students and she is deeply committed to providing opportunities for MIT graduate students outside of the Institute.
The brainchild of two bioengineering students, the graduate course 7.930[J] (Research Experience in Biopharma) exposes graduate students to industrial science and helps them develop the skills required to succeed in industry. In this subject, sponsored by Keating and Doug Lauffenburger, the Ford Professor of Engineering, and co-taught by Keating and Sean Clarke, a communications instructor and manager of biotech outreach within the Department of Biological Engineering, students participate in on-site research at local biopharmaceutical companies, where they both observe and participate in industrial science.
"It's really designed to demystify doing research in industry," says Keating. "The feedback we get suggests it's quite eye-opening in terms of changing some assumptions about what that life is like."
Keating has also played a significant role in the Department of Biology's diversity and outreach initiatives for graduate students, including providing research opportunities in her own lab through the Bernard S. and Sophie G. Gould MIT Summer Research Program in Biology.
"She is a terrific teacher and mentor, and works tirelessly to recruit and support diverse and outstanding graduate students in the department," says Grossman.
Keating earned her doctorate from the University of California at Los Angeles and was introduced to protein biochemistry as a Helen Hay Whitney Postdoctoral Fellow working with professors Peter S. Kim of the Department of Biology and the Whitehead Institute for Biomedical Research and Bruce Tidor of MIT's Department of Biological Engineering. She joined the MIT Department of Biology as an assistant professor in 2002. Among her various awards, Keating recently received the Georgina Sweet Award for Women in Quantitative Biomedical Science as part of the Australian Research Council Laureate Fellowship program.
School of Science
This article first appeared in MIT News on August 15, 2022.